Our neighbourhood has a new healthy living course called Real Food Real Health.
This is open to all adults registered at these local GP practices: Wilbraham Surgery, Chorlton Family Practice, Corkland Road Medical Practice, The Range Medical Centre, Princess Road Surgery, The Alexandra Practice, and Ashville Surgery.
Do you need additional support in better managing your weight and (if applicable) diabetes?
Would you like to try a different approach in a safe and encouraging environment by using a whole food, strength-based approach, peer led tailored to your values and needs?
Would you like to learn how to maintain those changes to suit your life and environment and much more?
The course is run by a neighbourhood dietician and two health coaches and it is free.
Watch the video on this page for a taster of what happens on the course.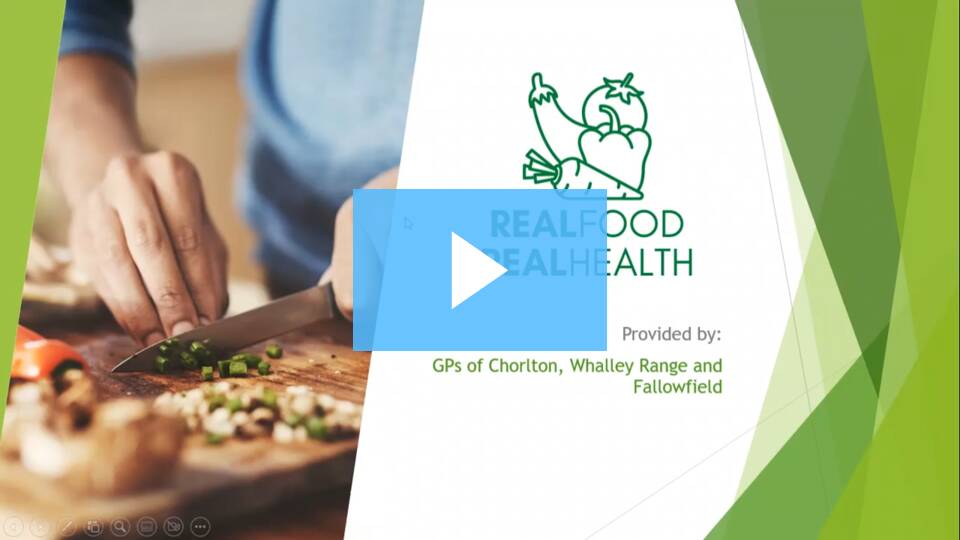 Weekly course:

8 week term-time courses running 3 times a year. Next course starts in January 2024.
If you are interested please click/tap here and fill in this form or ask your doctor or practice nurse to do this with you and we will contact you with more information.
This course is open to anybody who…
…is 18 years or older and registered with GP practice in the Chorlton, Whalley Range and Fallowfield area
…AND would like some extra support in healthy lifestyle change and weight loss
…AND has motivation to make the change happen with some support
It will be particularly important for people with Type 2 diabetes, people at risk of diabetes (e.g. pre-diabetes, overweight or obese) and people struggling to keep their blood pressure under control and so priority will be given to you if this applies to you!
Thank you!
Aurora Bush-Gordon, Ola Skrodzka, Lucy Blackstone, Sophie Dallimore, Dr Sam Campbell and Dr Tim Greenaway
Real Food Real Health Team, Whalley Range